Category Archives: Student Perspective
EDUCATION: Certificates Awarded in Sustainable Healthy Cities' Education Program
December 06, 2018
The Sustainable Healthy Cities (SHC) Network would like to congratulate the students, postdocs and staff who earned its Graduate Education Certificate in Integrated Infrastructure Solutions for Sustainable, Healthy and Livable Cities.
The certificate program included the completion of three graduate level courses offered in an innovative hybrid format and taught by leading experts and practitioners from different disciplines. The courses were offered in two series beginning at SHC's launch in August of 2015 through the spring semester of 2018. The classes included Interdisciplinary Environmental Study of Urban Sustainability; Defining and Measuring Environmental Sustainability, Health, Well-being, and Livability; and Distributed Infrastructure Solutions: Design and Policy.
We would like to thank all students and researchers for their time and contributions to Sustainable Healthy Cities' research efforts. Congratulations on the completion of your Certificate. – SHC Executive Committee: Anu Ramaswami, Patricia Culligan; Armistead Russell; Richard Feiock
Graham Ambrose – University of Minnesota
Poorva Bedge – Colorado State University
Lara Clark – University of Minnesota
Kirti Das – University of Minnesota
Robert Elliott – Columbia University
David Farnham – Columbia University
Kyle Flanegin – University of Minnesota
Xavier Fonoll-Almansa – University of Michigan
Grace Garbini – University of Minnesota
Matt Grimley – University of Minnesota
Kate Gurke – University of Minnesota
Aaron Hanson – University of Minnesota
Priya Hora – University of Minnesota
Kelsey Kappler – University of Minnesota
Serena Kim – Florida State University
Raj Lal – Georgia Institute of Technology
Abi Lawal – Georgia Institute of Technology
Xinyu Liu – Ohio State University
Jonathan Lubin – Florida State University
Sudy Majd – Columbia University
Amy Motzny – Columbia University
Peter Nixon – University of Minnesota
Justine Oesterle – University of Minnesota
Neil Quarles – University of Texas Austin
Sukumar Santhanam – University of Minnesota
Joseph Servadio – University of Minnesota
Ruowen Shen – Florida State University
Shilva Shrestha – University of Michigan
Kate Wassel – Florida State University
Xinyi Wu – University of Minnesota
Shengxi Yuan – Columbia University
Student Feature: Why do we shop at Farmer's Markets? Kate Gurke and Graham Ambrose Conduct Survey to Explore Motivations.
June 06, 2017
SRN students Graham Ambrose and Kate Gurke have worked on a study to understand how subjective well-being motivates sustainable purchasing decisions using a survey model known as dot surveys at farmers' markets. The dot surveys were used by over 400 farmer's market consumers to gather information on where consumers get the majority of their food, expenditures at the market, and motivations for attendance. These motivations that can be described as thinking, feeling, or purpose reasons to see if the personal benefits, positive emotional feelings, or beliefs in a cause that are linked to the market attendance. Participant's responses showed which type of motivation or a combination of all three motivate market attendance.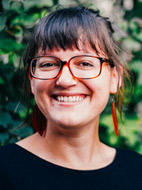 Kate Gurke has a degree in geology that took her to Italy as a teaching assistant for a study abroad program. Upon return she worked for several outdoor education programs including Conservation Corps Youth Outdoors, Minnesota Department of Natural Resources I Can Paddle!, and Greencorps Chicago. These program included several urban agriculture projects and sparked an interest in urban food movements and food access. She has been a Graduate Research Assistant for the Partnership in International Research and Education and Sustainable Research Network grants for the duration of her master's degree. The SRN led to connections with researchers in the Applied Economics department at University of Minnesota working with Minneapolis farmers' markets.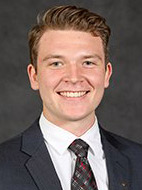 Graham Ambrose completed his undergraduate degree in Plant Breeding and Genetics with an emphasis in agroecology. I have refocused my interest towards understanding the unique market and policy forces driving success for small farmers.  My interests stem from a desire to develop market avenues for small, nontraditional farmers already producing in peri-urban and rural areas. I have worked with the Crow Wing and Cass County Farm Bureau and UMN Extension to assess and create a market development plan for local, grass-fed beef producers in the area. The research has used a mixed methodology approach, which utilized dot-surveys at local grocery stores, interviews with local chefs and grocer owners, as well as internet based consumer and producer surveys looking at desire and willingness-to-pay. I have also participated and placed second in the UMN's Acara Start-up Challenge for a produce aggregation, software platform that allows small farmers to sell, through multiple market avenues, to families, restaurants and institutions. Last, I have been a lead author on issue briefs discussing typologies of urban agriculture and economies of scale in urban agriculture through the SRN group at the UMN.
Student Feature: Ecosystem Services of Urban Farms by Xinyu Liu and Varsha Gopalakrishnan
April 11, 2017
Xinyu Liu and Varsha Gopalakrishnan, PhD students in Prof. Bhavik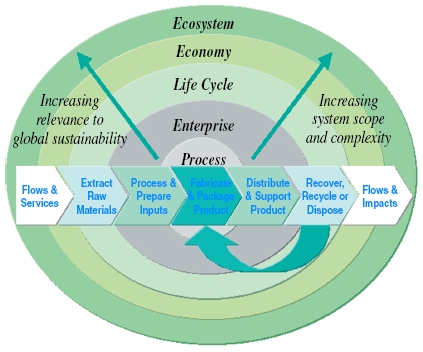 Bakshi's group at The Ohio State University work on integrating the role of ecosystem services into engineering design and decision making. Their work is motivated by the thinking that all engineered products and processes can be economically viable while respecting ecological limits. They use concepts from the fields such as Process Systems Engineering, Life Cycle Assessment, and Ecological Modeling to expand the boundary of traditional engineering methods to include ecosystems and to design systems that operate within nature's carrying capacity. Ultimately, this research work aims to develop synergies between technological and ecological systems to meet human needs while ensuring sustainability and resilience.
The scale of problems they address varies spatially and temporally, across individual equipment to the life cycle and across technologies and ecosystems. Some of the problems they have focused on include designing integrated networks of technological and ecological systems for industrial plants, developing a theoretical framework to account for ecosystem services in life cycle assessment and life cycle evaluation of several emerging technologies.
As a part of the SRN project, Xinyu and Varsha are interested in understanding the ecosystem services and disservices from different forms of urban farming across multiple cities in the world. Farming activities are associated with a bundle of ecosystem services, such as food provisioning, carbon sequestration and water quality regulation. Considering multiple services simultaneously will prevent the impact shifting to other services, thus enabling more informative decision making. They are interested in analyzing multiple scenarios to understand the benefits of investing in green infrastructure like community gardens and urban farms. This work contributes to the integrated SRN framework by providing quantitative indicators to assess environmental sustainability and linking it to human well-being and livability.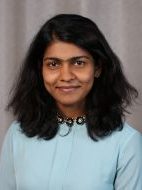 Student Feature: Turning waste into biofuel by Shilva Shrestha and Xavier Fonoll at UMich
March 22, 2017
Shilva Shrestha, a current PhD student, and Xavier Fonoll, a post-doctoral fellow, in Professor Lutgarde Raskin's research group at the University of Michigan, started a collaborative project between the University of Michigan, the University of Hawaii, and the University of Barcelona.  They started working as a visiting master's student and a visiting PhD student, respectively, at the University of Michigan in the summer of 2014. Impressed with the work atmosphere, rigor, and diverse approaches to research in the Raskin research group, both of them decided to take their collaboration further and returned to the University of Michigan after finishing their degrees at the University of Hawaii and the University of Barcelona, respectively, to start another phase of their research careers. Here is a brief introduction to their current work:
Annual worldwide waste generation is expected to increase by 70% by 2025. At the same time, there has also been a paradigm shift in our approach to waste treatment, transitioning from simple landfill disposal or incineration to utilizing waste to produce fuels and chemicals. Anaerobic digestion (AD) has been a popular technology to transform organic wastes into energy in the form of biogas. However, without government subsidies and appropriate governmental policies for promoting methane based biofuel, the economic viability of AD is often limited. Producing high-value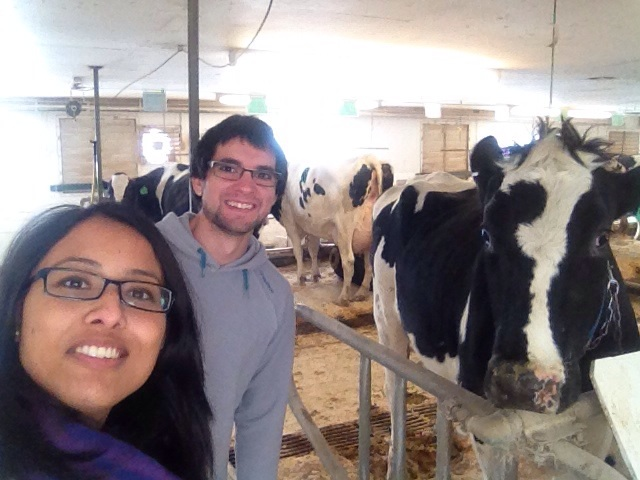 chemicals from organic waste streams using anaerobic technology has the potential to increase the economic value of AD technology, and also addresses concerns of environmental sustainability by proper waste management, preventing greenhouse gas (GHG) emissions, and decreasing resource depletion through the reduced use of petrochemical, plant, and animal oil sources. Anaerobic microbiomes can be used to produce medium chain fatty acids (MCFAs) by chain elongation of short chain carboxylates, the intermediates of AD. MCFAs are saturated fatty acids and have chain length from six to twelve carbons and can be used as the precursors for liquid fuels (alcohols and alkanes), animal feed additives, antimicrobials, fragrances, pharmaceuticals, and dyes.
To maximize the production of MCFAs, a two-phase bioreactor system is being built. The results from Shilva's and Xavier's previous collaborative project, in which rumen content was used as inoculum and co-substrate to overcome the slow hydrolysis of lignocellulosic substrates, fostered the idea of designing the first bioreactor. The first bioreactor hydrolyzes organic waste and subsequently ferments the soluble products to VFAs. It mimics the behavior of the rumen (cow stomach) and the design intends to shape the reactor microbiome to be as similar as the rumen microbiome with high levels of hydrolytic microorganisms. The second bioreactor supports the chain elongation reaction using the VFAs produced in the first bioreactor.
Columbia Students and Faculty Collaborate with Detroit
A photograph of the Heidelberg Project (http://www.heidelberg.org) taken by Columbia University professor Patricia Culligan
October 23, 2015
Written by Amy Motzny, Nandan Shetty and Robert Elliott of Columbia University
The Columbia University Urban Ecology Studio is an advanced design course for graduate students in architecture, engineering, and urban planning focusing on urban development and its ecological impacts. The class is separated into several multidisciplinary teams that are each tasked to produce an integrated design for a client (either an external organization or community stakeholders). As these teams reconcile their different ideas, strengths, and ways of thinking, faculty in both the School of Engineering and Applied Science and the Graduate School of Architecture, Planning and Preservation work to mediate their design process; raising questions, helping members to understand each other, offering suggestions, and applying sensibilities.
This year, the Urban Ecology Studio has partnered with the Detroit Collaborative Design Center (DCDC), an architecture and urban design research unit at the University of Detroit Mercy. In 2011, DCDC produced an extensive greenway development proposal for day lighting Detroit's historic Bloody Run Creek. This project aims to transform Detroit's East side neighborhoods by providing a major ecological public landscape that improves water quality and mitigates storm water runoff while serving as a catalyst for economic development. Since 2011, the Bloody Run Creek proposal has gained significant support in the city and DCDC is interested in the physical development of site-specific projects across the study area.  To assist with this effort, the student teams in the Urban Ecology Studio are expanding on the 2011 planning proposal. Teams are experimenting with design and programmatic intentions across scales, culminating in architectural or engineering design proposals and an overall infrastructure network concept that is specific to the Bloody Run study area but relevant to the broader Detroit geography. They will explore a range of distributed water, waste, and energy infrastructure ideas fundamentally related to redeveloping urban infrastructure and social fabric.
Urban Ecology Studio, students and faculty traveled to Detroit to meet with the DCDC and to visit the Bloody Run Creek study area, which encompasses more than 3,500 acres and is located east of Detroit's central business district and rapidly developing Midtown neighborhood. Much of the study area resembles the fabric of the city at large, comprised of a former community of dense, single-family residential homes and industrial facilities, many of which are vacant or abandoned today. During the site visit, students had an opportunity to explore several relics of this once thriving boomtown, including the ruins of the 3 million square-foot factory complex of the Packard Automotive Plant and the vacant residential block turned community art project at Heidelberg Street. Despite the prevalence of vacancy and loss, the Bloody Creek study area is also home to several cultural, natural, and community assets, including the historic Eastern Market, the Dequindre Cut Greenway, the Detroit Riverfront, and Elmwood Cemetery, an Olmstedian-inspired landscape that contains the only surface remnants of Bloody Run Creek today.
Apart from site visits and meeting with the DCDC client, students also exchanged ideas and approaches with an Urban Design Studio at the University of Michigan also involved with Detroit redevelopment. While undoubtedly a city of contradictions, the studio visit to Detroit has left students realistically hopeful about the future. Exposure to the complexities of the city has inspired them to consider sustainable strategies for development that value the opportunities present in Detroit's two most precious resources: available land and dynamic people. Projects will investigate everything from green infrastructure to solar energy and food production.
The Urban Ecology Studio is co-taught each year by SRN faculty Patricia Culligan and Richard Plunz. Professors Culligan and Plunz are currently leading efforts to explore the role of green infrastructure in urban stormwater management and community development in New York City's Bronx River Sewershed. They decided to focus this year's Studio on stormwater management and community development ideas for Detroit, in order to begin the integration of new ideas and strategies for distributed infrastructure systems across the SRN testbeds in New York City and Detroit.