100+ Attend Sustainable Healthy Cities Workshop on Distributed Infrastructure Futures
October 02, 2017
On August 28th and 29th, the Sustainable Healthy Cities Network hosted 100+ workshop participants at the Humphrey School of Public Affairs at the University of Minnesota including researchers, graduate students, city/regional government representatives, policy organizations, and industry representatives to discuss distributed  infrastructure systems and their role in delivering sustainability outcomes in cities.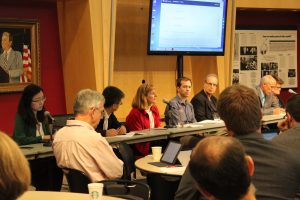 Participants engaged with research findings spanning multiple urban infrastructure sectors—including green infrastructure, urban food systems, transportation, energy, and water/wastewater. Workshop discussions centered on considering the policy and practice relevance of key findings from network researchers to inform urban sustainability decision-making.
The conversation covered topics including : 1) the appropriate scale and jurisdiction for considering the in-boundary and trans-boundary environmental impacts of cities, 2) the optimal mix of new localized and existing centralized infrastructure systems to maximize resource efficiency and sustainability outcomes, and 3) the challenges of financing and encouraging the adoption of distributed infrastructure technologies.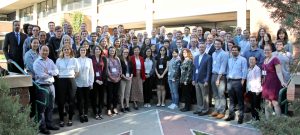 City representatives from Atlanta, Austin, Denver, Detroit, Durham, Fort Collins, Minneapolis, New York City, Saint Paul, Tallahassee, and Visakhapatnam (India) participated in the two day workshop, as did representatives from national organizations including ICLEI, ICMA, and Star Communities. The workshop also  benefited from the participation of industry partners from Ecolab and Xcel Energy.
Stay tuned for the release a workshop outcome document later this fall summarizing workshop discussions and highlighting current trends in science-policy interface on issues of distributed infrastructure for urban sustainability. The document is slated for released in November 2017.
Camila Merino Franco and Morgan Shultz complete their REU program with the SRN
August 23, 2017
This summer, the Sustainable Healthy Cities network at the University of Minnesota hosted two undergraduate students through the Research Experience for Undergraduates (REU) program. Maria Camila Merino Franco (University of Minnesota, Twin Cities) and Morgan Shultz (Salish Kootenai College, Pablo, MT) worked alongside SRN researchers at the University of Minnesota, in collaboration with the University of Michigan, to map urban agriculture practices in St. Paul, Minnesota.  This project mapped various types of urban agriculture through a combined method of GoogleEarth digitizing and field searches. The objective of the work was to assess the current level of urban agriculture in St. Paul and variation across neighborhoods with differing socio-demographic characteristics. "Having Camila and Morgan on board served several goals of our SRN, not only providing useful data and analysis, but giving us additional perspectives and insights about how to move the project forward.  In addition, they were terrific people to work with, and we hope the experience will be valuable to them as they continue to develop and pursue their future careers!" said Frank Douma, coordinator of the network's participation within the REU program.
Camila is a student at the University of Minnesota Twin Cities studying Biosystems and Bioproducts Engineering with an emphasis in Ecological and Environmental Engineering. Morgan is completing his first year at Salish Kootenai College, a Tribal college in Montana, where he majors in Hydrology. The purpose of the REU program on Sustainable Land and Water Resources is to introduce undergraduate students to key elements of research on land and water resources that are essential to improving management practices, with a focus on Community-Based Participatory Research (CBPR) and diverse interdisciplinary research teams.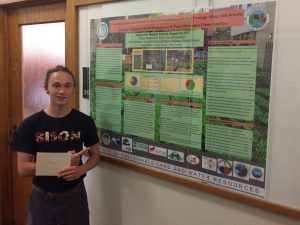 Successful NSF-RCN Workshop on Interdisciplinary Urban Sustainability Careers
August 18, 2017
The NSF-RCN workshop on interdisciplinary urban sustainability careers was held at the Humphrey School of Public Affairs, University of Minnesota, from Aug 7 to Aug 9, 2017. This is a student-led workshop, organized by PhD students Kangkang (KK) Tong from the University of Minnesota and Kate Wassel from Florida State University. They invited 15 professors and professionals with doctoral degrees to share their experience in interdisciplinary collaboration, career development in academia and industries/governmental sectors/NGOs, as well as how to begin their own businesses. These invited speakers came from different educational backgrounds, generally covering engineering, natural sciences, and public affairs. To maximally integrate the needs of career development from various educational degrees, KK and Kate also invited PhD students, Jueyu (Olivia) Wang (Urban Planning), Raj M. Lal (Civil and Environmental Engineering), and Daniel Costie (Public Policy) to form a student committee.
In total, 31 students and post-docs, from 18 domestic and international universities/institutes, participated in this workshop. These attendees are from various educational degree programs, including civil and environmental engineering, environmental science, geography, public affairs, urban affairs, and urban planning, etc. The Center for Science, Technology, and Environmental Policy at the Humphrey School hosted this event.
SRN Researchers Lead UNEP Workshop on Resource Efficient Urbanization at ASEAN 3rd Annual Mayors Forum
August 16, 2017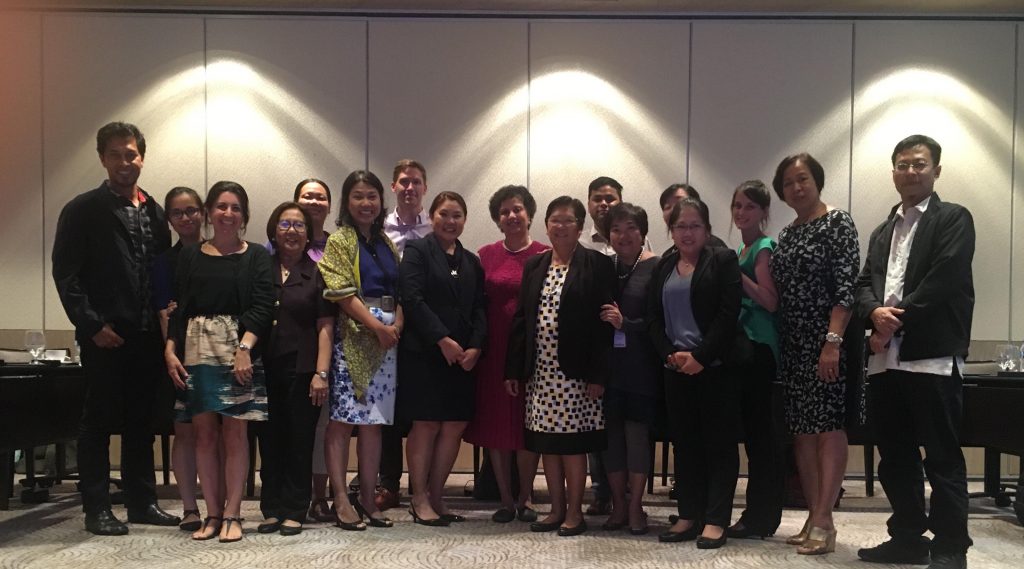 SRN PI, Professor Anu Ramaswami, alongside staff research associates, Sam Tabory and Ashly (Spevacek) McFarlane, of the Humphrey School of Public Affairs' Center for Science, Technology and Environmental Policy presented at a technical workshop in conjunction with the United Nations Environment Programme (UNEP) at the Association of Southeast Asian Nations' (ASEAN) 3rd Annual Mayors Forum in the Philippines, July 24-27. Professor Ramaswami also addressed the larger Forum audience as an invited plenary speaker.
The technical workshop was co-hosted by UNEP, United Cities and Local Governments Asia-Pacific, and the League of Cities Philippines. Participants included elected officials, technical staff, and representatives of regional local government associations.
At the workshop, the research team presented strategies for resource-efficient urbanization and the development of compact, livable cities in Southeast Asia. The team also conducted interviews with mayors and urban development experts from Southeast Asian cities to better understand differences in local sustainability decision-making across the region.
Workshop participants engaged with critical regional urbanization dynamics including the projected growth of small and medium size cities in Southeast Asia. While mega-cities like Jakarta and Manila often monopolize the attention of sustainable development observers, much of the urban population growth that is projected to occur in Southeast Asia between now and 2050 will be in cities with fewer than 500,000 residents.
A key barrier to resource efficient urbanization both in Southeast Asia, and elsewhere, is a lack of coordinated planning across policy areas as well as different levels of government. Workshop participants identified the need to better link policy-making and planning processes across key sectors like economic development, housing, and transportation. Similarly, participants discussed the need for more collaboration and resource sharing both vertically and horizontally across government agencies at national, regional, and local levels.
ASEAN city officials at the Mayors Forum highlighted many examples of ongoing resource-efficient urbanization efforts across the transportation sector, building design, and renewable energy production. However, the workshop highlighted the challenges of best practice sharing across government agencies and local ASEAN governments. National and international resources for city officials, technical staff and other key personnel are available, however, the information is not always distributed effectively to the local level.
Energy, water-use, demographic, lifestyle and other key metrics that can inform city officials about where they are succeeding and where they might need to improve with respect to resource-efficient urbanization are not collected in most ASEAN cities. The benefits associated with collecting these metrics is not always apparent to  city officials, and data collection efforts of this type often require resource investments of both money and staff time, both of which are often constrained in many city governments. The is result is that data collection is often not prioritized by local administrations
The workshop was part of a process to prepare a report written in conjunction with UNEP on urban infrastructure transitions in Southeast Asia. Key findings from the workshop, including barriers to resource-efficient urban development and strategies to address these barriers, will be incorporated in the final report. The report is scheduled for release in late 2017.
The ASEAN Mayors Forum released a video that highlights the discussion during the two day event. It can be viewed here.
Annual progress report presented at SRN Awardees Conference
June 27, 2017
The Sustainable Healthy Cities SRN traveled to Arlington, Virginia in early June for the SRN Awardees Conference. Our cooperative agreement with the National Science Foundation includes an annual presentation of progress and information. PI's Trish Culligan and Ted Russell along with staff and faculty, Robert Johns, Nisha Botchwey, Rick Feiock, Yingling Fan, Ashly Spevacek, Olivia Schares, Sarah French, Dana Boyer, and Sudy Majd represented our SRN and connected with NSF staff and the other Sustainability Research Networks (SRNs).
Each SRN gave an introduction to their project and presented their progress and experiences in the following topics:
Education and Workforce Development
Forming and Managing Interdisciplinary Research Teams
Trajectories of SRN Science and Engineering
Challenges in Urban Sustainability Research: Views from Social, Economic and Behavioral Scientists
Data Collection and Model Integration
Engaging Key Stakeholders around SRN Research
There was a poster session featuring early career researchers and their work. Sudy Majd from Columbia University and Dana Boyer from the University of Minnesota represented projects from our SRN.
Fellow SRNs:
SCRiM (Sustainable Climate Risk Management)
AirWaterGas
UWIN (Urban Water Innovation Network)
UREx (Urban Resilience to Extremes)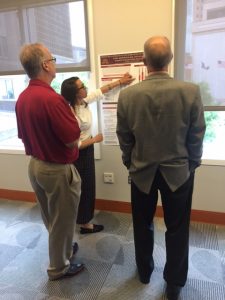 Ashly Spevacek Joins the Staff at Sustainable Healthy Cities
May 19, 2017
Please join us in welcoming the newest member of our Network staff, Ashly Spevacek. She joins  our research and project management team as we bid farewell to Katja Kruit, who has accepted a new position and returned to the Netherlands. We wish Katja the best in her new opportunity! Ashly introduces herself below: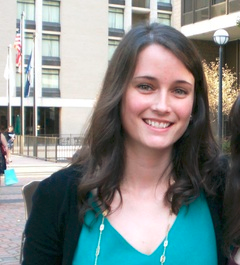 Ashly Spevacek: I'm excited to join the SRN this summer. In addition to supporting the SRN with some administrative tasks, I will also be conducting research. After receiving a Bachelors in Mechanical Engineering from the University of Minnesota in 2010, I worked for Project Performance Company in Washington D.C. as a consultant to various public and private organizations including the Department of Energy and the Transportation Research Board. As a consultant I managed research and software development projects, wrote research publications and developed energy management plans. I recently received a master's in atmospheric sciences from the University of Washington. For my thesis I ran global climate models and evaluated how tropical precipitation will change in the 21st century if we follow the business as usual IPCC emissions scenario. I look forward to meeting everyone in person and supporting the SRN research efforts.
External Advisory Committee visits University of Minnesota for annual review meeting
March 13, 2017
On March 7-8, the SRN's External Advisory Committee (EAC) met with lead faculty and staff in Minneapolis. The EAC, led by Raj Rajan from Ecolab, has members from industry, government and academia who review the Network's progress.Faculty presented research results and outreach activities from the past year, and the EAC provided feedback on how the Network can further be improved. This feedback will be given to the National Science Foundation as well.
More information about the EAC can be found 
here
.
Professor Lutgarde Raskin wins the ISME/IWA Biocluster Award Grand Prize
January 06, 2017
Congratulations to SRN member, Professor Lutgarde Raskin, who has won the ISME/IWA Biocluster Award Grand Prize in 2016. This prestigious prize rewards interdisciplinary research at the interface of microbial ecology and water/wastewater treatment.
Masters and PhD graduate assistantships are available to study sustainable and healthy cities.
December 09, 2016
Sustainable Healthy Cities is a unique research network of universities, cities, governments, NGOs, and industry partners who are co-developing the science and practical knowledge that enables urban infrastructure transformation toward environmentally sustainable, healthy, and livable cities. We focus on infrastructure design as well as behavioral and policy levers to advance distributed infrastructure solutions to benefit people, cities, and the environment.
Assistantships are in graduate degree programs spanning a number of disciplines including engineering, urban planning, environmental science, environmental policy, public health, and public affairs.
The eight schools and key contacts are:
Frank Douma at The University of Minnesota (douma002@umn.edu)
Patricia Culligan at Columbia University (culligan@civil.columbia.edu)
Armistead Russell at Georgia Tech (ted.russell@ce.gatech.edu)
Dan Zimmerle at Colorado State University (Dan.Zimmerle@colostate.edu)
Bhavik Bakshi at Ohio State University (bakshi.2@osu.edu)
Richard Feiock at Florida State University (rfeiock@fsu.edu)
Kara Kockelman at The University of Texas (kkockelm@mail.utexas.edu)
Joshua Newell at The University of Michigan (jpnewell@umich.edu)
SRN Seeks Post-Doctoral Associate at University of Minnesota
October 06, 2016
The Sustainable Healthy Cities Network seeks a Post-Doctoral Associate to conduct research in an exciting interdisciplinary program, focusing on Sustainable Infrastructure and Cities at the University of Minnesota. Particular focus areas are: areas of energy modeling, the energy-health nexus, and/or the food-energy-water nexus. The work takes place in the broader context of sustainable urban infrastructure systems, under the direction of Professor Anu Ramaswami.
The position works on interdisciplinary research teams analyzing technology futures, spatial infrastructure design, and social and policy influences on urban infrastructure. The position also participates in and leads the preparation of proposals, reports, presentations, and technical papers; co-teaches SRN courses to graduate students; and assists in liaison activities with policy partners.
The successful candidate will play an exciting and key role in the Sustainable Healthy Cities network. He or she will have unique opportunities to engage with joint research across both disciplines and institutions, and to contribute to policy-relevant work with partner cities and international agencies.
We offer a vibrant interdisciplinary research group connecting science and engineering with sustainability system analysis and public policy to address some of society's most pressing challenges.
Qualifications
Required:
PhD degree in energy-related field, with systems thinking and interdisciplinary skills.
Strong publication record.
Excellent communications, teamwork, and team leadership skills.
Preferred:
Experience in energy/modeling, energy-health nexus, and urban sustainability systems analysis
Training in fields such as Engineering, Energy Resources, Environmental Science, Industrial Ecology, Natural Resources and Environmental Policy, and Engineering and Public Policy will be a good fit for the position.
Familiarity with energy futures models, integrated assessment models, spatial energy planning, air pollution and climate models, and input-output models will also be beneficial.
Apply through the University of Minnesota Employment Portal
(Job ID: 313241)