Category Archives: SRN Research
NEW STUDY: Role of Cross-Sector Strategies in City Efforts to Reduce GHG Emissions, Improve Health
October 05, 2017
Based on "bottom-up" emissions data from 637 cities in China–the most comprehensive data set of its kind–a new study published in the journal Nature Climate Change  by SRN researchers models the role of cross-sector strategies in city efforts to reduce GHG emissions.
The study specifically considers the aggregate GHG emissions impacts and local health impacts that could be generated if cities deployed strategies of cross-sector industrial symbiosis to capture and re-use "waste heat" and other other byproducts of industrial activity located in or near cities. The study has key implications for:
1) quantifying what cities can and cannot do to contribute to national aggregate CO2 mitigation efforts
2) quantifying what city-level CO2 mitigation efforts mean for local health benefits
3) understanding the potential impact of circular economy policies and urban design strategies that encourage cross-sector reuse of "waste heat" and other industrial byproducts
The remainder of this post is excerpted from an article posted on the Humphrey School of Public Affairs news page. See the original article here. 
Concerns over global climate change and local air pollution have led many cities around the world to get creative in their efforts to reduce the use of fossil fuels. They're going beyond conventional single-sector strategies such as energy-efficient buildings and power plants to look at innovative ways to capture waste heat from industries and businesses—from cement plants, to pulp and paper mills to grocery stores—and pipe it to homes and buildings up to 30 kilometers away.
Some cities are also reusing waste materials from industries in urban construction as a substitute for cement and other construction materials, helping reduce the demand for these materials.
Scientists use the terms "cross-sector strategies" and "circular economy strategies" to describe such novel approaches to urban infrastructure planning, which have several goals: to reduce material and energy use; to reduce reliance on fossil fuels; to improve air quality; and to improve the health of residents in urban areas, while simultaneously creating value from resources that were previously wasted.
New research by Professor Anu Ramaswami of the Humphrey School of Public Affairs at the University of Minnesota, published Monday in the latest online edition of Nature Climate Change, is the first to demonstrate just how successful these strategies would be, if widely adopted.
"Cities are the critical centers of change when it comes to taking action on greenhouse gases," said Ramaswami, who led this study that looked at all 637 cities in China at the same time. "Our research shows there's great potential for cities to reduce energy demand and carbon emissions by adopting cross-sector strategies, such as reusing industrial byproducts like waste energy, on a mass scale. And that means a better quality of life for residents. It's a win-win."
Professor Anu RamaswamiThe study finds that if all cities in China adopt these strategies, they would reduce greenhouse gas emissions by up to 36 percent—and at the same time, protect up to 57,000 people from dying prematurely due to poor air quality. Researchers base these findings on models that examine potential carbon reductions and the expected health improvements.
The study also found that the benefits varied from city to city, depending on the locale.
For example, two cities can take similar actions and reduce emissions or energy use by the same proportion, and see very different health and environmental outcomes, due to differences in how air pollution flows into and out of their cities from the surrounding areas.
Ramaswami noted that most research on greenhouse gas emissions up to this point has focused on what national-level policies can do, typically impacting individual sectors of the economy such as power generation, transportation, or energy-efficient building construction. This is the first of its kind to measure the impact of holistic urban planning in cities that encourages compact city development, eco-industrial parks, waste-to-value projects and district energy systems. Cities can readily adopt these practices, Ramaswami said, but they rarely get credit for them in terms of reducing greenhouse gases.
Since her study is the first to collect information at the city level, it's a starting point for analyzing the science behind what cities can and cannot do to help reduce greenhouse gases on a nationwide basis, and what those steps mean for the local communities.
"The insights we gained from this study will inform how we design sustainable urban areas in China and elsewhere around the world in the future," said Ramaswami. "That's important because we expect to see another 2.5 billion people living in cities by 2050, with most of that population growth in Asia and Africa."
Read the complete findings.
The study was conducted in collaboration with researchers at the Georgia Institute of Technology, Yale University, Tsinghua University, and Shanghai University.
The collaborations were enabled by a Partnership for International Research and Education (PIRE) grant from the National Science Foundation (NSF). The PIRE project concentrates on reducing greenhouse gas emissions from cities, while addressing broader sustainability goals such as economic development, water scarcity, environmental pollution, and public health. Several of the study authors are current affiliates with the Sustainable Healthy Cities Network, supported by an NSF sustainability research network grant.
Ramaswami is the Charles M. Denny, Jr., Chair of Science, Technology, and Environmental Policy (STEP) at the Humphrey School of Public Affairs. The STEP program integrates science with public policy, community action, and multi-sector governance.
100+ Attend Sustainable Healthy Cities Workshop on Distributed Infrastructure Futures
October 02, 2017
On August 28th and 29th, the Sustainable Healthy Cities Network hosted 100+ workshop participants at the Humphrey School of Public Affairs at the University of Minnesota including researchers, graduate students, city/regional government representatives, policy organizations, and industry representatives to discuss distributed  infrastructure systems and their role in delivering sustainability outcomes in cities.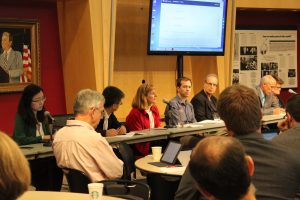 Participants engaged with research findings spanning multiple urban infrastructure sectors—including green infrastructure, urban food systems, transportation, energy, and water/wastewater. Workshop discussions centered on considering the policy and practice relevance of key findings from network researchers to inform urban sustainability decision-making.
The conversation covered topics including : 1) the appropriate scale and jurisdiction for considering the in-boundary and trans-boundary environmental impacts of cities, 2) the optimal mix of new localized and existing centralized infrastructure systems to maximize resource efficiency and sustainability outcomes, and 3) the challenges of financing and encouraging the adoption of distributed infrastructure technologies.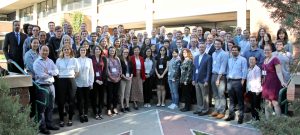 City representatives from Atlanta, Austin, Denver, Detroit, Durham, Fort Collins, Minneapolis, New York City, Saint Paul, Tallahassee, and Visakhapatnam (India) participated in the two day workshop, as did representatives from national organizations including ICLEI, ICMA, and Star Communities. The workshop also  benefited from the participation of industry partners from Ecolab and Xcel Energy.
Stay tuned for the release a workshop outcome document later this fall summarizing workshop discussions and highlighting current trends in science-policy interface on issues of distributed infrastructure for urban sustainability. The document is slated for released in November 2017.
Camila Merino Franco and Morgan Shultz complete their REU program with the SRN
August 23, 2017
This summer, the Sustainable Healthy Cities network at the University of Minnesota hosted two undergraduate students through the Research Experience for Undergraduates (REU) program. Maria Camila Merino Franco (University of Minnesota, Twin Cities) and Morgan Shultz (Salish Kootenai College, Pablo, MT) worked alongside SRN researchers at the University of Minnesota, in collaboration with the University of Michigan, to map urban agriculture practices in St. Paul, Minnesota.  This project mapped various types of urban agriculture through a combined method of GoogleEarth digitizing and field searches. The objective of the work was to assess the current level of urban agriculture in St. Paul and variation across neighborhoods with differing socio-demographic characteristics. "Having Camila and Morgan on board served several goals of our SRN, not only providing useful data and analysis, but giving us additional perspectives and insights about how to move the project forward.  In addition, they were terrific people to work with, and we hope the experience will be valuable to them as they continue to develop and pursue their future careers!" said Frank Douma, coordinator of the network's participation within the REU program.
Camila is a student at the University of Minnesota Twin Cities studying Biosystems and Bioproducts Engineering with an emphasis in Ecological and Environmental Engineering. Morgan is completing his first year at Salish Kootenai College, a Tribal college in Montana, where he majors in Hydrology. The purpose of the REU program on Sustainable Land and Water Resources is to introduce undergraduate students to key elements of research on land and water resources that are essential to improving management practices, with a focus on Community-Based Participatory Research (CBPR) and diverse interdisciplinary research teams.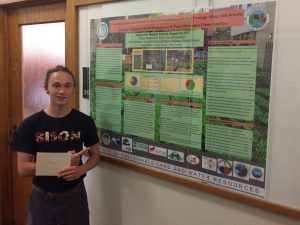 Student Feature: Why do we shop at Farmer's Markets? Kate Gurke and Graham Ambrose Conduct Survey to Explore Motivations.
June 06, 2017
SRN students Graham Ambrose and Kate Gurke have worked on a study to understand how subjective well-being motivates sustainable purchasing decisions using a survey model known as dot surveys at farmers' markets. The dot surveys were used by over 400 farmer's market consumers to gather information on where consumers get the majority of their food, expenditures at the market, and motivations for attendance. These motivations that can be described as thinking, feeling, or purpose reasons to see if the personal benefits, positive emotional feelings, or beliefs in a cause that are linked to the market attendance. Participant's responses showed which type of motivation or a combination of all three motivate market attendance.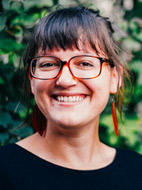 Kate Gurke has a degree in geology that took her to Italy as a teaching assistant for a study abroad program. Upon return she worked for several outdoor education programs including Conservation Corps Youth Outdoors, Minnesota Department of Natural Resources I Can Paddle!, and Greencorps Chicago. These program included several urban agriculture projects and sparked an interest in urban food movements and food access. She has been a Graduate Research Assistant for the Partnership in International Research and Education and Sustainable Research Network grants for the duration of her master's degree. The SRN led to connections with researchers in the Applied Economics department at University of Minnesota working with Minneapolis farmers' markets.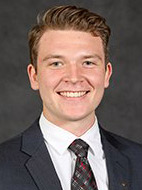 Graham Ambrose completed his undergraduate degree in Plant Breeding and Genetics with an emphasis in agroecology. I have refocused my interest towards understanding the unique market and policy forces driving success for small farmers.  My interests stem from a desire to develop market avenues for small, nontraditional farmers already producing in peri-urban and rural areas. I have worked with the Crow Wing and Cass County Farm Bureau and UMN Extension to assess and create a market development plan for local, grass-fed beef producers in the area. The research has used a mixed methodology approach, which utilized dot-surveys at local grocery stores, interviews with local chefs and grocer owners, as well as internet based consumer and producer surveys looking at desire and willingness-to-pay. I have also participated and placed second in the UMN's Acara Start-up Challenge for a produce aggregation, software platform that allows small farmers to sell, through multiple market avenues, to families, restaurants and institutions. Last, I have been a lead author on issue briefs discussing typologies of urban agriculture and economies of scale in urban agriculture through the SRN group at the UMN.
Student Feature: Ecosystem Services of Urban Farms by Xinyu Liu and Varsha Gopalakrishnan
April 11, 2017
Xinyu Liu and Varsha Gopalakrishnan, PhD students in Prof. Bhavik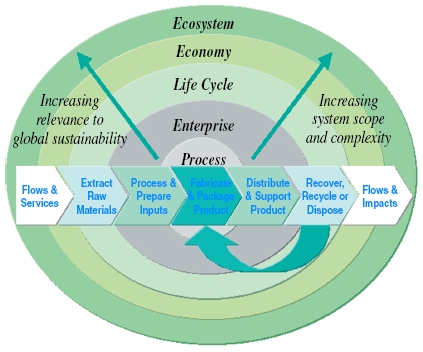 Bakshi's group at The Ohio State University work on integrating the role of ecosystem services into engineering design and decision making. Their work is motivated by the thinking that all engineered products and processes can be economically viable while respecting ecological limits. They use concepts from the fields such as Process Systems Engineering, Life Cycle Assessment, and Ecological Modeling to expand the boundary of traditional engineering methods to include ecosystems and to design systems that operate within nature's carrying capacity. Ultimately, this research work aims to develop synergies between technological and ecological systems to meet human needs while ensuring sustainability and resilience.
The scale of problems they address varies spatially and temporally, across individual equipment to the life cycle and across technologies and ecosystems. Some of the problems they have focused on include designing integrated networks of technological and ecological systems for industrial plants, developing a theoretical framework to account for ecosystem services in life cycle assessment and life cycle evaluation of several emerging technologies.
As a part of the SRN project, Xinyu and Varsha are interested in understanding the ecosystem services and disservices from different forms of urban farming across multiple cities in the world. Farming activities are associated with a bundle of ecosystem services, such as food provisioning, carbon sequestration and water quality regulation. Considering multiple services simultaneously will prevent the impact shifting to other services, thus enabling more informative decision making. They are interested in analyzing multiple scenarios to understand the benefits of investing in green infrastructure like community gardens and urban farms. This work contributes to the integrated SRN framework by providing quantitative indicators to assess environmental sustainability and linking it to human well-being and livability.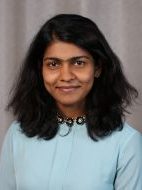 Student Feature: Turning waste into biofuel by Shilva Shrestha and Xavier Fonoll at UMich
March 22, 2017
Shilva Shrestha, a current PhD student, and Xavier Fonoll, a post-doctoral fellow, in Professor Lutgarde Raskin's research group at the University of Michigan, started a collaborative project between the University of Michigan, the University of Hawaii, and the University of Barcelona.  They started working as a visiting master's student and a visiting PhD student, respectively, at the University of Michigan in the summer of 2014. Impressed with the work atmosphere, rigor, and diverse approaches to research in the Raskin research group, both of them decided to take their collaboration further and returned to the University of Michigan after finishing their degrees at the University of Hawaii and the University of Barcelona, respectively, to start another phase of their research careers. Here is a brief introduction to their current work:
Annual worldwide waste generation is expected to increase by 70% by 2025. At the same time, there has also been a paradigm shift in our approach to waste treatment, transitioning from simple landfill disposal or incineration to utilizing waste to produce fuels and chemicals. Anaerobic digestion (AD) has been a popular technology to transform organic wastes into energy in the form of biogas. However, without government subsidies and appropriate governmental policies for promoting methane based biofuel, the economic viability of AD is often limited. Producing high-value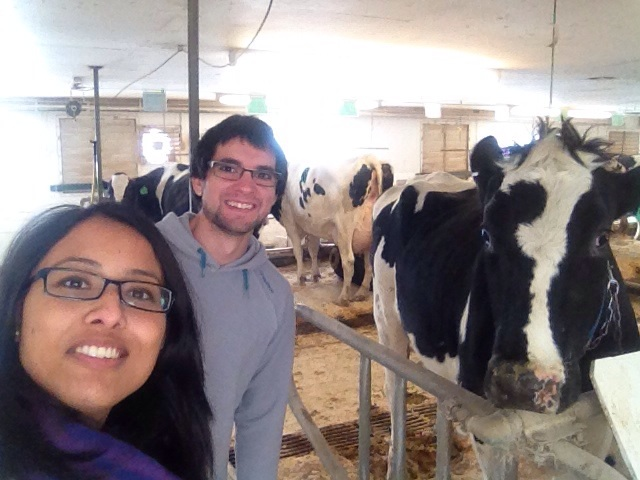 chemicals from organic waste streams using anaerobic technology has the potential to increase the economic value of AD technology, and also addresses concerns of environmental sustainability by proper waste management, preventing greenhouse gas (GHG) emissions, and decreasing resource depletion through the reduced use of petrochemical, plant, and animal oil sources. Anaerobic microbiomes can be used to produce medium chain fatty acids (MCFAs) by chain elongation of short chain carboxylates, the intermediates of AD. MCFAs are saturated fatty acids and have chain length from six to twelve carbons and can be used as the precursors for liquid fuels (alcohols and alkanes), animal feed additives, antimicrobials, fragrances, pharmaceuticals, and dyes.
To maximize the production of MCFAs, a two-phase bioreactor system is being built. The results from Shilva's and Xavier's previous collaborative project, in which rumen content was used as inoculum and co-substrate to overcome the slow hydrolysis of lignocellulosic substrates, fostered the idea of designing the first bioreactor. The first bioreactor hydrolyzes organic waste and subsequently ferments the soluble products to VFAs. It mimics the behavior of the rumen (cow stomach) and the design intends to shape the reactor microbiome to be as similar as the rumen microbiome with high levels of hydrolytic microorganisms. The second bioreactor supports the chain elongation reaction using the VFAs produced in the first bioreactor.
Rahul Sharma and Professor Gabe Chan Provide Commentary for Nature Energy
December 27, 2016
Read University of Minnesota PhD Rahul Sharma and Professor Gabe Chan's invited commentary in Nature Energy, "Energy poverty: Electrification and well-being." The commentary is based on a paper Sharma and Chan reviewed for the journal, and engages with questions on how rural energy poverty is measured, and which measures are better suited for policy decisions.
Sara Meerow and Josh Newell Publish on Spatial Planning for Green Infrastructure in Detroit
December 16, 2016
SRN student Sara Meerow and faculty member Josh Newell, both at the University of Michigan, developed a Green Infrastructure Spatial Planning (GISP) model to maximize the ecosystem services of green infrastructure. They applied this stakeholder-driven model to Detroit to identify priority areas across the city where multiple environmental, health, wealth, and livability benefits of green infrastructure are needed most, and compared these results with the locations of current projects.
The full article, Spatial planning for multifunctional green infrastructure: Growing resilience in Detroit is published in Landscape and Urban Planning and available here.
Masters and PhD graduate assistantships are available to study sustainable and healthy cities.
December 09, 2016
Sustainable Healthy Cities is a unique research network of universities, cities, governments, NGOs, and industry partners who are co-developing the science and practical knowledge that enables urban infrastructure transformation toward environmentally sustainable, healthy, and livable cities. We focus on infrastructure design as well as behavioral and policy levers to advance distributed infrastructure solutions to benefit people, cities, and the environment.
Assistantships are in graduate degree programs spanning a number of disciplines including engineering, urban planning, environmental science, environmental policy, public health, and public affairs.
The eight schools and key contacts are:
Frank Douma at The University of Minnesota (douma002@umn.edu)
Patricia Culligan at Columbia University (culligan@civil.columbia.edu)
Armistead Russell at Georgia Tech (ted.russell@ce.gatech.edu)
Dan Zimmerle at Colorado State University (Dan.Zimmerle@colostate.edu)
Bhavik Bakshi at Ohio State University (bakshi.2@osu.edu)
Richard Feiock at Florida State University (rfeiock@fsu.edu)
Kara Kockelman at The University of Texas (kkockelm@mail.utexas.edu)
Joshua Newell at The University of Michigan (jpnewell@umich.edu)
SRN Seeks Post-Doctoral Associate at University of Minnesota
October 06, 2016
The Sustainable Healthy Cities Network seeks a Post-Doctoral Associate to conduct research in an exciting interdisciplinary program, focusing on Sustainable Infrastructure and Cities at the University of Minnesota. Particular focus areas are: areas of energy modeling, the energy-health nexus, and/or the food-energy-water nexus. The work takes place in the broader context of sustainable urban infrastructure systems, under the direction of Professor Anu Ramaswami.
The position works on interdisciplinary research teams analyzing technology futures, spatial infrastructure design, and social and policy influences on urban infrastructure. The position also participates in and leads the preparation of proposals, reports, presentations, and technical papers; co-teaches SRN courses to graduate students; and assists in liaison activities with policy partners.
The successful candidate will play an exciting and key role in the Sustainable Healthy Cities network. He or she will have unique opportunities to engage with joint research across both disciplines and institutions, and to contribute to policy-relevant work with partner cities and international agencies.
We offer a vibrant interdisciplinary research group connecting science and engineering with sustainability system analysis and public policy to address some of society's most pressing challenges.
Qualifications
Required:
PhD degree in energy-related field, with systems thinking and interdisciplinary skills.
Strong publication record.
Excellent communications, teamwork, and team leadership skills.
Preferred:
Experience in energy/modeling, energy-health nexus, and urban sustainability systems analysis
Training in fields such as Engineering, Energy Resources, Environmental Science, Industrial Ecology, Natural Resources and Environmental Policy, and Engineering and Public Policy will be a good fit for the position.
Familiarity with energy futures models, integrated assessment models, spatial energy planning, air pollution and climate models, and input-output models will also be beneficial.
Apply through the University of Minnesota Employment Portal
(Job ID: 313241)