Monthly Archives: December 2018
CONVENING: SHC Participates in International Workshops to Advance Science of Co-production
December 18, 2018
Sustainable Healthy Cities (SHC) Network research manager Sam Tabory recently participated in two workshops on the topic of co-production for knowledge and research advancement with practice and policy communities.
The first workshop explored co-production and co-creation for urban transitions and was hosted by the Dutch Research Institute for Transitions. The second workshop considered new directions in academic-practitioner engagement in public management and administration research and was hosted jointly by the University of Barcelona, the University of California Santa Barbra, and University College London.
Professor Anu Ramaswami of the University of Minnesota, who leads the SHC Network, was a co-author on both of the papers presented at these workshops which are expected to lead to special issue publications. Professor Richard Feiock of Florida State University, who co-directs the SHC Network, is a co-author on the paper exploring directions in academic-practitioner research collaborations.
Co-production, co-creation and academic-practitioner collaborations are emerging as particularly important topics among researchers seeking to generate actionable, relevant, and credible science on complex topics that intersect with policy and practice arenas. The SHC Network  actively leverages co-produced science-to-action approaches in its interdisciplinary work on sustainable urban infrastructure transitions, but it also seeks to directly contribute to an emerging science of co-production unto itself.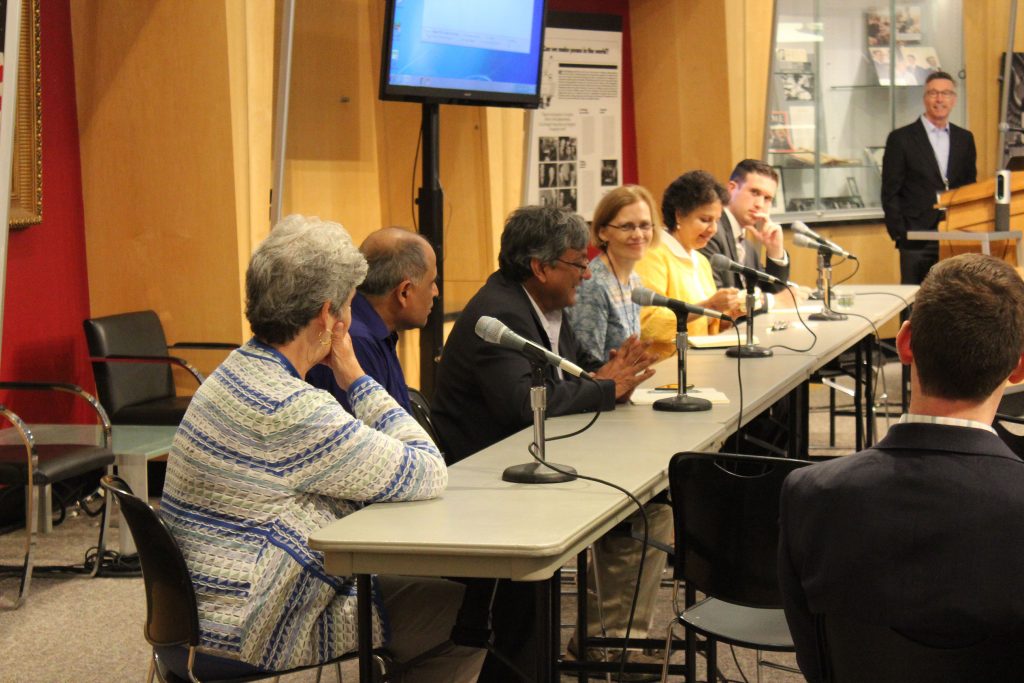 EDUCATION: Certificates Awarded in Sustainable Healthy Cities' Education Program
December 06, 2018
The Sustainable Healthy Cities (SHC) Network would like to congratulate the students, postdocs and staff who earned its Graduate Education Certificate in Integrated Infrastructure Solutions for Sustainable, Healthy and Livable Cities.
The certificate program included the completion of three graduate level courses offered in an innovative hybrid format and taught by leading experts and practitioners from different disciplines. The courses were offered in two series beginning at SHC's launch in August of 2015 through the spring semester of 2018. The classes included Interdisciplinary Environmental Study of Urban Sustainability; Defining and Measuring Environmental Sustainability, Health, Well-being, and Livability; and Distributed Infrastructure Solutions: Design and Policy.
We would like to thank all students and researchers for their time and contributions to Sustainable Healthy Cities' research efforts. Congratulations on the completion of your Certificate. – SHC Executive Committee: Anu Ramaswami, Patricia Culligan; Armistead Russell; Richard Feiock
Graham Ambrose – University of Minnesota
Poorva Bedge – Colorado State University
Lara Clark – University of Minnesota
Kirti Das – University of Minnesota
Robert Elliott – Columbia University
David Farnham – Columbia University
Kyle Flanegin – University of Minnesota
Xavier Fonoll-Almansa – University of Michigan
Grace Garbini – University of Minnesota
Matt Grimley – University of Minnesota
Kate Gurke – University of Minnesota
Aaron Hanson – University of Minnesota
Priya Hora – University of Minnesota
Kelsey Kappler – University of Minnesota
Serena Kim – Florida State University
Raj Lal – Georgia Institute of Technology
Abi Lawal – Georgia Institute of Technology
Xinyu Liu – Ohio State University
Jonathan Lubin – Florida State University
Sudy Majd – Columbia University
Amy Motzny – Columbia University
Peter Nixon – University of Minnesota
Justine Oesterle – University of Minnesota
Neil Quarles – University of Texas Austin
Sukumar Santhanam – University of Minnesota
Joseph Servadio – University of Minnesota
Ruowen Shen – Florida State University
Shilva Shrestha – University of Michigan
Kate Wassel – Florida State University
Xinyi Wu – University of Minnesota
Shengxi Yuan – Columbia University