Monthly Archives: February 2018
UPCOMING CONFERENCES: Cities, Sustainability, and Infrastructure Related Research Convenings
February 27, 2018
The following upcoming research conferences are convenings that may be of interest to the Sustainable Healthy Cities research  community. The conferences are variously focused on topics of cities, sustainability, and infrastructure.
IPCC Cities and Climate Change Conference 
The International Panel on Climate Change is hosting a conference on cities  with the intent of inspiring the next frontier of research focused on the science of cities and climate change.
Themes of the conference include:
Cities & climate change (Imperatives for action)
Urban emissions, impacts and vulnerabilities (Science and practice of cities)
Solutions for the transition to low carbon and climate resilient cities (Science and practice for cities)
Enabling transformative climate action in cities (advancing science and advancing cities)
The conference will be held March 5-7, 2018 in Edmonton, Canada. Learn more about the conference here. 
Gordon Research Conference: The Role of Industrial Ecology in Reaching the Sustainable Development Goals
The conference will focus on investigating the "newest insights on how Industrial Ecology can contribute towards achieving the SDGs" with a particular focus on "methods and approaches for assessing achievements and exploring synergies and tradeoffs between SDGs."
The conference will be held May 20-25, 2018 at the Les Diablerets Conference Center in Switzerland. Learn more about the conference here. 
2018 International Symposium on Sustainable Systems and Technology
In its 25th year, ISSST is one of the longest-running research conferences related to sustainability and the intersection of technology, policy, and behavior.  The 2018 ISSST Conference will include a specific theme on circular economies.
The conference will be held June 26-28, 2018 in Buffalo, New York. Learn more about the conference here. 
2018 APPAM International Conference: Public Policy for Sustainable Metropolitan Development
The Association for Public Policy Analysis and Management's 2018 international conference will focus on concerns of sustainable urban development, paying special attention to how those concerns connect with the implementation of UN Habitat's New Urban Agenda and the larger UN Sustainable Development Goals. The conference will highlight research that applies a metropolitan focus to concerns of sustainable urban development, particularly highlighting  the challenges of multi-jurisdictional governance.
The conference will be held July 19-20, 2018 in Mexico City. Learn more about the conference here. 
Urban Transitions 2018: Integrating Urban and Transport Planning, Environment and Health for Healthier Urban Living
Hosted by Elsevier conferences, Urban Transitions 2018 will consider the goal of promoting "healthy urban development"and  provide enhanced understanding of  linkages across health and urban development while providing insights to help guide multi-sector solutions. Supporting Elsevier publications include: Cities, Environment International, Environmental Pollution, Preventative Medicine, and Transportation Research.
The conference will be held November 25-27, 2018 in Barcelona, Spain. Learn more about the conference here. 
NEW REPORT: Articulating a Next Generation Vision for Sustainable Urban Systems Research to NSF
February 15, 2018
The Advisory Committee on Environmental Research and Education (AC-ERE) to the US National Science Foundation (NSF) has released a new report articulating a next generation vision for sustainable urban systems research. Read the full report here.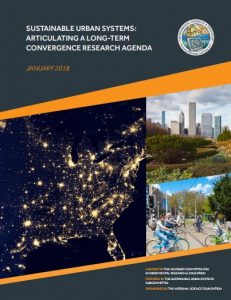 In 1950, fewer than one-third of the world's people lived in cities. By 2050, urban areas will be home to some two-thirds of Earth's human population. This scale and pace of urbanization has never been seen in human history and requires a new type of science that transcends traditional disciplines and that intentionally links from intra-urban to urban-regional to global scales. No single discipline, from urban planning to public policy to engineering has the scope to address this challenge. Scientists need new data, methods and theories to assess the interactions among people, policy, infrastructure, technologies, governance institutions, and natural systems to understand urban to global system functions and change.
The AC-ERE released the report in response to this broader landscape and the challenges therein. The report seeks to provide a long-term vision to guide NSF and other funding agencies as they invest in new science and science-to-action partnerships moving from an exclusive focus on cities to a focus on sustainable urban systems.
The report was prepared by the Sustainable Urban Systems subcommittee to the AC-ERE, chaired by Anu Ramaswami, director of the Sustainable Healthy Cities Network and professor at the Humphrey School of Public Affairs. See the full press release from NSF here.
NEW REPORT: Two UN Environment Reports Launched: The Weight of Cities (Global) and Sustainable Infrastructure Transitions in the ASEAN (Southeast Asia)
February 15, 2018
Can we better design cities to support local and global sustainability goals? That is the subject of two new reports recently released by UN Environment including a global report, The Weight of Cities: Resource Requirements of Future Urbanization, and a regional report for Southeast Asia, Sustainable Urban Infrastructure Transitions in the ASEAN Region: A Resource Perspective.
Both reports call for new strategies to meet the needs of 21st-century urbanization, ones that will result in cities that are low carbon, resource efficient, socially just, and in which people can live healthy lives. Read UN Environment's full press release here.
Policy-maker summaries for both reports were recently launched at UN Habitat's 9th World Urban Forum. The summary of the global report can be found here. The summary of the regional Southeast Asia report can be found here.
Anu Ramaswami, director of the Sustainable Healthy Cities Network, was a contributing author to the global report and lead author of the regional report. Sustainable Healthy Cities Network staff researchers Ashly McFarlane and Sam Tabory, as well as post-doctoral fellow Rylie Pelton, were contributing authors to the regional report.
Both reports were developed by UN Environment as part of their ongoing efforts to promote resource efficient urbanization. Learn more about the work of UN Environment's Global Initiative for Resource Efficient Cities here.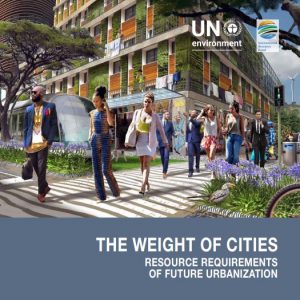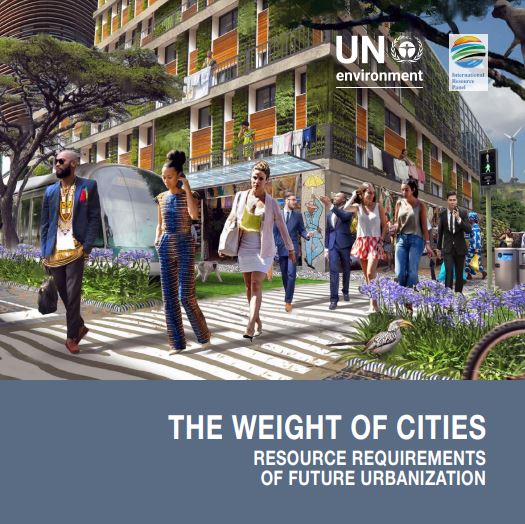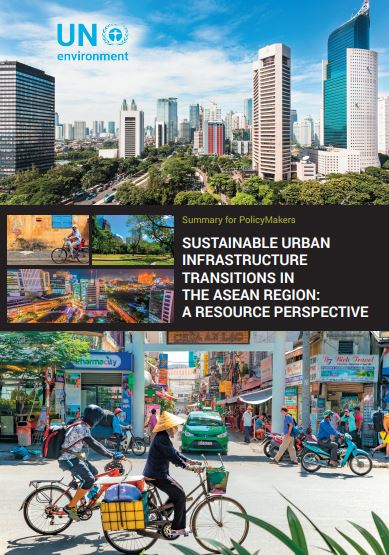 POLICY ENGAGEMENT: Ecological Landscapes in Cities at the World Urban Forum
February 15, 2018
How can connections between the built environment, natural ecosystems, and urban metabolism be leveraged in cities to advance both local and global sustainability targets? That is the question that Anu Ramaswami, director of the Sustainable Healthy Cities Network and professor at the Humphrey School of Public Affairs, was tasked with helping to answer as a speaker at UN Habitat's plenary session on Ecological Landscapes in Cities at the 9th World Urban Forum in Kuala Lumpur, Malaysia.
Ramaswami joined speakers from the Word Bank, UN Habitat, UN Environment, the Government of Malaysia, the Mayor of Quito and civil society and youth representatives to discuss the role of landscapes as mediators between urban built environments and natural landscapes.
Panelists discussed the need to simplify urban metabolism models as a way to engage youth champions in the cause of sustainability, the role that green and blue spaces in cities will play in addressing challenges of climate change adaptation, and the general benefits to biodiversity and resilience that ecosystem services in cities are able to offer residents.
Ramaswami presented leading edge research from the Sustainable Healthy Cities Network quantifying the impact of urban infrastructure sectors and food supply on regional land and water resources, their contributions to global greenhouse gas emissions, and their role in broadly shaping human health and wellbeing, in turn affecting almost all of the UN's Sustainable Development Goals. She also spoke of how the work is informing a new urban systems research frontier in which scientists are able to model comprehensive sustainability scenarios across multiple infrastructure sectors in individual cities, ultimately connecting those results to higher-level models that look at the impact of all urban areas in a country or region.
The plenary session highlighted the importance of ongoing research and policy engagement to promote resource efficient cities. The panel was hosted by UN Habitat's Greener Cities Partnership, a collaboration between UN Habitat and UN Environment. More from UN Habitat and the Greener Cities Partnership can be found here. More from UN Environment on resource efficient cities can be found here.