Camila Merino Franco and Morgan Shultz complete their REU program with the SRN
August 23, 2017
This summer, the Sustainable Healthy Cities network at the University of Minnesota hosted two undergraduate students through the Research Experience for Undergraduates (REU) program. Maria Camila Merino Franco (University of Minnesota, Twin Cities) and Morgan Shultz (Salish Kootenai College, Pablo, MT) worked alongside SRN researchers at the University of Minnesota, in collaboration with the University of Michigan, to map urban agriculture practices in St. Paul, Minnesota.  This project mapped various types of urban agriculture through a combined method of GoogleEarth digitizing and field searches. The objective of the work was to assess the current level of urban agriculture in St. Paul and variation across neighborhoods with differing socio-demographic characteristics. "Having Camila and Morgan on board served several goals of our SRN, not only providing useful data and analysis, but giving us additional perspectives and insights about how to move the project forward.  In addition, they were terrific people to work with, and we hope the experience will be valuable to them as they continue to develop and pursue their future careers!" said Frank Douma, coordinator of the network's participation within the REU program.
Camila is a student at the University of Minnesota Twin Cities studying Biosystems and Bioproducts Engineering with an emphasis in Ecological and Environmental Engineering. Morgan is completing his first year at Salish Kootenai College, a Tribal college in Montana, where he majors in Hydrology. The purpose of the REU program on Sustainable Land and Water Resources is to introduce undergraduate students to key elements of research on land and water resources that are essential to improving management practices, with a focus on Community-Based Participatory Research (CBPR) and diverse interdisciplinary research teams.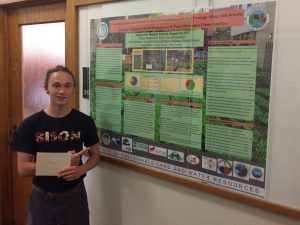 Ashly Spevacek Joins the Staff at Sustainable Healthy Cities
May 19, 2017
Please join us in welcoming the newest member of our Network staff, Ashly Spevacek. She joins  our research and project management team as we bid farewell to Katja Kruit, who has accepted a new position and returned to the Netherlands. We wish Katja the best in her new opportunity! Ashly introduces herself below: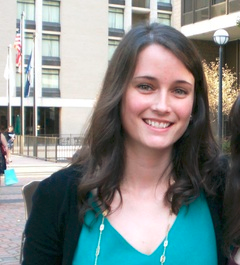 Ashly Spevacek: I'm excited to join the SRN this summer. In addition to supporting the SRN with some administrative tasks, I will also be conducting research. After receiving a Bachelors in Mechanical Engineering from the University of Minnesota in 2010, I worked for Project Performance Company in Washington D.C. as a consultant to various public and private organizations including the Department of Energy and the Transportation Research Board. As a consultant I managed research and software development projects, wrote research publications and developed energy management plans. I recently received a master's in atmospheric sciences from the University of Washington. For my thesis I ran global climate models and evaluated how tropical precipitation will change in the 21st century if we follow the business as usual IPCC emissions scenario. I look forward to meeting everyone in person and supporting the SRN research efforts.
Student Feature: Turning waste into biofuel by Shilva Shrestha and Xavier Fonoll at UMich
March 22, 2017
Shilva Shrestha, a current PhD student, and Xavier Fonoll, a post-doctoral fellow, in Professor Lutgarde Raskin's research group at the University of Michigan, started a collaborative project between the University of Michigan, the University of Hawaii, and the University of Barcelona.  They started working as a visiting master's student and a visiting PhD student, respectively, at the University of Michigan in the summer of 2014. Impressed with the work atmosphere, rigor, and diverse approaches to research in the Raskin research group, both of them decided to take their collaboration further and returned to the University of Michigan after finishing their degrees at the University of Hawaii and the University of Barcelona, respectively, to start another phase of their research careers. Here is a brief introduction to their current work:
Annual worldwide waste generation is expected to increase by 70% by 2025. At the same time, there has also been a paradigm shift in our approach to waste treatment, transitioning from simple landfill disposal or incineration to utilizing waste to produce fuels and chemicals. Anaerobic digestion (AD) has been a popular technology to transform organic wastes into energy in the form of biogas. However, without government subsidies and appropriate governmental policies for promoting methane based biofuel, the economic viability of AD is often limited. Producing high-value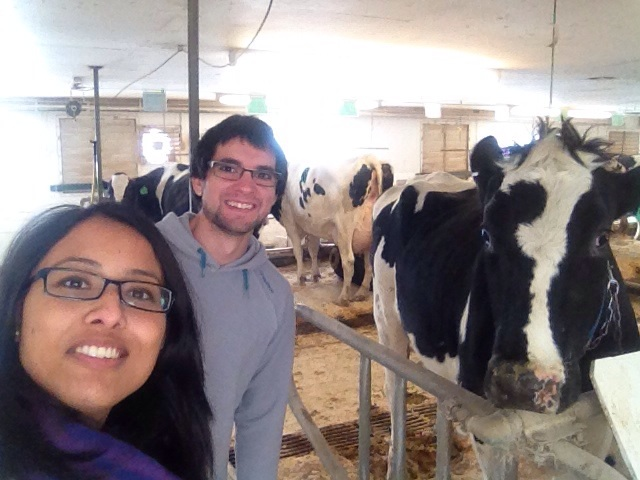 chemicals from organic waste streams using anaerobic technology has the potential to increase the economic value of AD technology, and also addresses concerns of environmental sustainability by proper waste management, preventing greenhouse gas (GHG) emissions, and decreasing resource depletion through the reduced use of petrochemical, plant, and animal oil sources. Anaerobic microbiomes can be used to produce medium chain fatty acids (MCFAs) by chain elongation of short chain carboxylates, the intermediates of AD. MCFAs are saturated fatty acids and have chain length from six to twelve carbons and can be used as the precursors for liquid fuels (alcohols and alkanes), animal feed additives, antimicrobials, fragrances, pharmaceuticals, and dyes.
To maximize the production of MCFAs, a two-phase bioreactor system is being built. The results from Shilva's and Xavier's previous collaborative project, in which rumen content was used as inoculum and co-substrate to overcome the slow hydrolysis of lignocellulosic substrates, fostered the idea of designing the first bioreactor. The first bioreactor hydrolyzes organic waste and subsequently ferments the soluble products to VFAs. It mimics the behavior of the rumen (cow stomach) and the design intends to shape the reactor microbiome to be as similar as the rumen microbiome with high levels of hydrolytic microorganisms. The second bioreactor supports the chain elongation reaction using the VFAs produced in the first bioreactor.
Sara Meerow and Josh Newell Publish on Spatial Planning for Green Infrastructure in Detroit
December 16, 2016
SRN student Sara Meerow and faculty member Josh Newell, both at the University of Michigan, developed a Green Infrastructure Spatial Planning (GISP) model to maximize the ecosystem services of green infrastructure. They applied this stakeholder-driven model to Detroit to identify priority areas across the city where multiple environmental, health, wealth, and livability benefits of green infrastructure are needed most, and compared these results with the locations of current projects.
The full article, Spatial planning for multifunctional green infrastructure: Growing resilience in Detroit is published in Landscape and Urban Planning and available here.
Masters and PhD graduate assistantships are available to study sustainable and healthy cities.
December 09, 2016
Sustainable Healthy Cities is a unique research network of universities, cities, governments, NGOs, and industry partners who are co-developing the science and practical knowledge that enables urban infrastructure transformation toward environmentally sustainable, healthy, and livable cities. We focus on infrastructure design as well as behavioral and policy levers to advance distributed infrastructure solutions to benefit people, cities, and the environment.
Assistantships are in graduate degree programs spanning a number of disciplines including engineering, urban planning, environmental science, environmental policy, public health, and public affairs.
The eight schools and key contacts are:
Frank Douma at The University of Minnesota (douma002@umn.edu)
Patricia Culligan at Columbia University (culligan@civil.columbia.edu)
Armistead Russell at Georgia Tech (ted.russell@ce.gatech.edu)
Dan Zimmerle at Colorado State University (Dan.Zimmerle@colostate.edu)
Bhavik Bakshi at Ohio State University (bakshi.2@osu.edu)
Richard Feiock at Florida State University (rfeiock@fsu.edu)
Kara Kockelman at The University of Texas (kkockelm@mail.utexas.edu)
Joshua Newell at The University of Michigan (jpnewell@umich.edu)
SRN Seeks Post-Doctoral Associate at University of Minnesota
October 06, 2016
The Sustainable Healthy Cities Network seeks a Post-Doctoral Associate to conduct research in an exciting interdisciplinary program, focusing on Sustainable Infrastructure and Cities at the University of Minnesota. Particular focus areas are: areas of energy modeling, the energy-health nexus, and/or the food-energy-water nexus. The work takes place in the broader context of sustainable urban infrastructure systems, under the direction of Professor Anu Ramaswami.
The position works on interdisciplinary research teams analyzing technology futures, spatial infrastructure design, and social and policy influences on urban infrastructure. The position also participates in and leads the preparation of proposals, reports, presentations, and technical papers; co-teaches SRN courses to graduate students; and assists in liaison activities with policy partners.
The successful candidate will play an exciting and key role in the Sustainable Healthy Cities network. He or she will have unique opportunities to engage with joint research across both disciplines and institutions, and to contribute to policy-relevant work with partner cities and international agencies.
We offer a vibrant interdisciplinary research group connecting science and engineering with sustainability system analysis and public policy to address some of society's most pressing challenges.
Qualifications
Required:
PhD degree in energy-related field, with systems thinking and interdisciplinary skills.
Strong publication record.
Excellent communications, teamwork, and team leadership skills.
Preferred:
Experience in energy/modeling, energy-health nexus, and urban sustainability systems analysis
Training in fields such as Engineering, Energy Resources, Environmental Science, Industrial Ecology, Natural Resources and Environmental Policy, and Engineering and Public Policy will be a good fit for the position.
Familiarity with energy futures models, integrated assessment models, spatial energy planning, air pollution and climate models, and input-output models will also be beneficial.
Apply through the University of Minnesota Employment Portal
(Job ID: 313241)