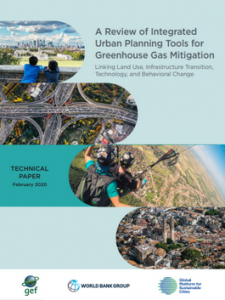 A Review of Integrated Urban Planning Tools for Greenhouse Gas Mitigation (2020)
Achieving the Sustainable Development Goals (SDGs) over the next 30 years will critically depend upon urban land use and infrastructure development actions taken across multiple sectors (buildings, energy, transportation, water-sanitation, and waste) in global cities. Integrated urban planning addresses a multiplicity of urban sustainability objectives (e.g., economy, environment, inclusivity, and resilience) (GPSC, World Bank 2018), including cross-sectoral and cross-scale linkages (Ramaswami et al. 2016) and connection of physical planning with social, cultural, behavior, and policy dimensions.
Members of the Sustainable Healthy Cities network — Anu Ramaswami, Andrew Fang, and Samuel Tabory — were lead authors on this report from The World Bank.