100+ Attend Sustainable Healthy Cities Workshop on Distributed Infrastructure Futures
October 02, 2017
On August 28th and 29th, the Sustainable Healthy Cities Network hosted 100+ workshop participants at the Humphrey School of Public Affairs at the University of Minnesota including researchers, graduate students, city/regional government representatives, policy organizations, and industry representatives to discuss distributed  infrastructure systems and their role in delivering sustainability outcomes in cities.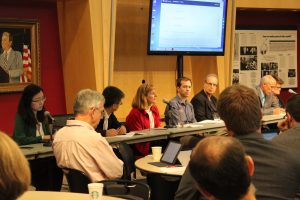 Participants engaged with research findings spanning multiple urban infrastructure sectors—including green infrastructure, urban food systems, transportation, energy, and water/wastewater. Workshop discussions centered on considering the policy and practice relevance of key findings from network researchers to inform urban sustainability decision-making.
The conversation covered topics including : 1) the appropriate scale and jurisdiction for considering the in-boundary and trans-boundary environmental impacts of cities, 2) the optimal mix of new localized and existing centralized infrastructure systems to maximize resource efficiency and sustainability outcomes, and 3) the challenges of financing and encouraging the adoption of distributed infrastructure technologies.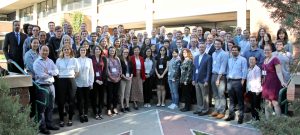 City representatives from Atlanta, Austin, Denver, Detroit, Durham, Fort Collins, Minneapolis, New York City, Saint Paul, Tallahassee, and Visakhapatnam (India) participated in the two day workshop, as did representatives from national organizations including ICLEI, ICMA, and Star Communities. The workshop also  benefited from the participation of industry partners from Ecolab and Xcel Energy.
Stay tuned for the release a workshop outcome document later this fall summarizing workshop discussions and highlighting current trends in science-policy interface on issues of distributed infrastructure for urban sustainability. The document is slated for released in November 2017.